Mikrobiologia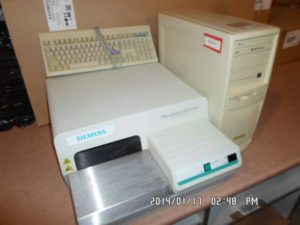 The autoSCAN-4 System processes panels in seconds, simplifying identification and antibiotic susceptibility testing (ID/AST) while standardizing results. Over 30 years of exceptional instrument reliability and our conventional panel technology – with the fewest FDA limitations in automated ID/AST – make the autoSCAN-4 an excellent supplemental system for difficult organisms or as a primary instrument for low-volume usage.
Features & Benefits
The autoSCAN-4 System includes our LabPro Information Management software and is designed to simplify workflow and minimize technologist interaction while accommodating differing regional and institutional environments through extensive customization features. Our LabPro AlertEX software automates detection of atypical results for quick reporting and directs staff to the most appropiate action based upon customized institutional procedures.
    Operation is easy to learn and use, with minimal training
    Cost-effective automation for low volumes
    Processes Conventional panels with direct, non-identification (ID)-dependent minimum inhibitory concentrations (MICs), to help you zero in on emerging resistance
    Processes Specialty ID panels for reduced turnaround when speed matters
    Optional remote diagnostics provide an extra level of service responsiveness
    Our highly rated Service and Support offers unmatched experience and expertise to ensure the optimal performance of your microbiology service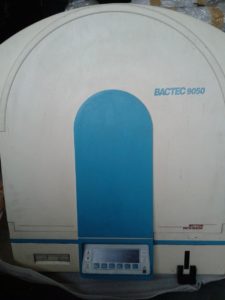 The BACTEC blood culture system is a fully automated microbiology growth and detection system designed to detect microbial growth from blood specimens. The BACTEC™ FX and the BACTEC™ 9000 family of continuous monitoring blood culturing instruments offering performance, safety, reliability, ease of use, media quality and service.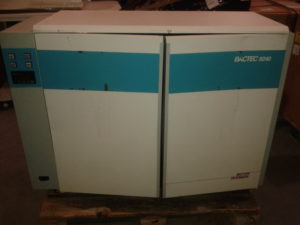 The BACTEC 9240 blood culture system (Becton Dickinson Diagnostic Instrument Systems, Sparks, Md.) is one of three automated, continuous-monitoring systems that is widely used in clinical laboratories. The BACTEC 9240 was compared with the BACTEC NR 660 for the detection of organisms and bacteremic episodes; time to detection of positive cultures; number of false-positive and false-negative cultures; and time needed to load, process, and perform quality control functions by using high-volume aerobic media. Blood specimens (5,282) were inoculated in equal volumes (5 to 10 ml per bottle) into BACTEC Plus Aerobic/F (9240 system) and BACTEC Plus NR26 (660 system) bottles. Clinically significant isolates were detected in 6.6% of cultures, representing 348 microorganisms and 216 bacteremic episodes. Two hundred forty-eight microorganisms were detected by both systems, 48 by the 9240 only and 52 by the 660 only (P = not significant). Of the bacteremic episodes, 158 were detected by both systems, 27 by the 9240 only and 31 by the 660 only (P = not significant). Analysis of data by month revealed equivalent recovery rates for both systems, with the exception of a 30-day period at one study site during which the 660 system detected significantly more microorganisms. Following a proprietary hardware design retrofit of the 9240 instrument, detection rates were again equivalent for the remaining three months at this study site. Positive cultures detected by both systems were detected an average of 4.3 h faster by the 9240 system (21 versus 25.3 h). The numbers of false-positive cultures for the 9240 and 660 systems were 40 (1.0%) and 9 ( < 1.0%), respectively.(ABSTRACT TRUNCATED AT 250 WORDS)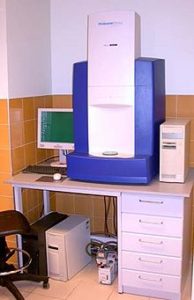 Matrix-assisted laser desorption/ionization time-of-flight (MALDI-TOF) mass spectrometry (MS) offers the possibility of accurate, rapid, inexpensive identification of bacteria, fungi, and mycobacteria isolated in clinical microbiology laboratories. The procedures for preanalytic processing of organisms and analysis by MALDI-TOF MS are technically simple and reproducible, and commercial databases and interpretive algorithms are available for the identification of a wide spectrum of clinically significant organisms. Although only limited work has been reported on the use of this technique to identify molds, perform strain typing, or determine antibiotic susceptibility results, these are fruitful areas of promising research. As experience is gained with MALDI-TOF MS, it is expected that the databases will be expanded to resolve many of the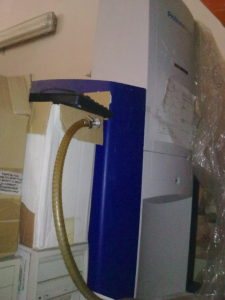 current inadequate identifications (eg, no identification, genus-level identification) and algorithms for potential misidentification will be developed. The current lack of Food and Drug Administration approval of any MALDI-TOF MS system for organism identification limits widespread use in the United States.

MicroScan Walkaway 40/48/96/
Dade Behring Microscan Walkaway 96 chemistry analyzer is a 96-panel microbiology system, capable of automating 90 percent of routine ID and susceptibility testing procedures. Users can process 96 tests per hour on this Dade Microscan model. Accurate processing and identification is complete in two hours.
Results and reports including QC diagnostic, epidemiology and patient reports can be stored. The system facilitates efficient collection, editing, storage, and retrieval of these reports. A number of workflow options that maximize flexibility and productivity are available with the Dade Walkaway 96 chemistry analyzer.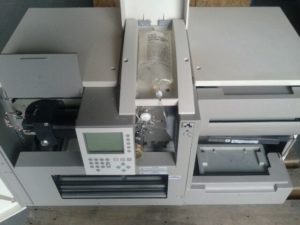 The VITEK® 2 system has everything healthcare laboratories need for fast, accurate microbial identification, and antibiotic susceptibility testing.
The innovative VITEK® 2 microbial identification system includes an expanded identification database, the most automated platform available, rapid results, improved confidence, with minimal training time.
The VITEK® 2 system next-generation platform provides greater automation while increasing safety and eliminating repetitive manual operations. The rapid response time means results can be provided more quickly than with manual microbial identification techniques.
VITEK® 2 Compact
Compact, automated ID/AST instrument
The compact solution for fast, accurate ID/AST testing with expert confidence
    Space-saving, automated & efficient
    Works with VITEK® 2 PC LIS-compatible software that evolves with microbiology needs
    Reduces hands-on time for enhanced workflow & rapid reporting