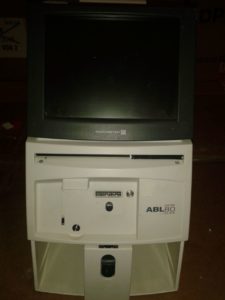 Ideal for measuring blood gas, electrolytes and glucose in low- to mid-volume clinical areas
Easy-to-use test cassettes and a small footprint make the ABL80 FLEX analyzer ideal for measuring blood gas, electrolytes and glucose in low- and mid-volume clinical areas.
The ABL80 FLEX analyzer offers automatic quality control that makes sure you're always ready for the next inspection.
And because it's portable and operates fully on battery, the ABL80 FLEX analyzer is ideal for sharing among several departments.
The ABL80 FLEX analyzer offers full IT connectivity to the AQURE point-of-care management system*), and can be used as a part of Radiometer's 1st Automatic solution.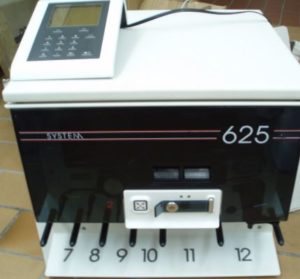 The ABL 625 blood gas analyzer is the cornerstone of critical care testing solutions. The manufacturer of this analyzer is Radiometer. Radiometer ABL 625 has proved to be useful for measuring blood gases, pH values, and electrolytes, including ionized calcium.
It is also an ideal and reliable option to analyze the arterial pH, pCO2, pO2, p50, ctO2, px, cx and Qx values, glucose and lactate levels. This device features quick and accurate blood gas assays.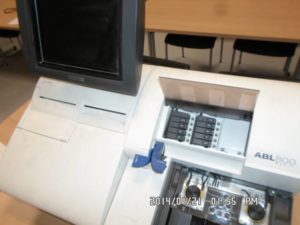 Automatyczna identyfikacja, mieszanie, dokonywanie pomiaru próbek
Moduł FLEXQ automatycznie identyfikuje, miesza i dokonuje automatycznie pomiaru trzech próbek jednocześnie, dzięki czemu automatyczna identyfikacja i mieszanie zmniejsza ryzyko popełnianych błędów przez użytkownika. Automatyczne przenoszenie próbek do otworu wlotowego i zaaspirowanie analizatora sprawiają, że użytkownicy mogą szybko wrócić do pacjentów.
Laboratoryjna jakość wyniku w punkcie opieki nas pacjentem
– dla pomiaru pełnej oksymetrii CO 128 długości fali
– Automatyczny pomiar i eliminacja interferencji z hemoglobiną płodową, bilirubiną, intralipidami i sulfhemoglobiny
– Dokładne pomiary glukozy i mleczanów
– na dokładne pomiary z bardzo małych objętości pozwalają w pełni zautomatyzowane mikro tryby
– FLEXMODE pozwala na maksymalne wykorzystanie cennej próbki kapilarnej dostarczając największej możliwej liczby parametrów z minimalnej objętości kapilary
Maksymalna kontrola i wydajność
– System operacyjny Windows? XP
– Automatyczne przetwarzanie wyniku, zlecanie badania i transmisja danych do systemu LIS
– Automatyczny zapis danych i dostosowany do potrzeb użytkownika
– Tworzenie kopii zapasowych
– napęd CD-ROM do odczytu/zapisu
– Porty USB
– Połączenie ze szpitalną siecią przez standardowe protokoły komunikacyjne ASTM i HL7 lub przez RADIANCE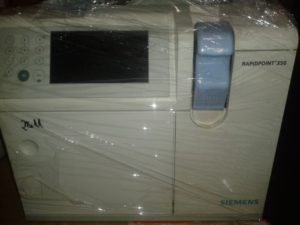 Designed with simplicity, efficiency and value in mind
The RAPIDPoint 340/350 Blood Gas Systems deliver critical patient results quickly and simply, with minimal operator interaction. Low-to-medium volume testing sites can experience fast turnaround of patient samples with proven test results, allowing clinicians to implement patient therapy at the earliest possible stage.
    simple and efficient operation
    reliable, low-maintenance technology
    fast test results
    flexible sampling options including dialysate* fluid testing
    system connectivity
Critical patient results are needed in the laboratory as well as the OR, ER, ICU, critical care units and other hospital testing locations. The portable RAPIDPoint 340/350 Blood Gas Systems provide test data quickly with minimal operator interaction.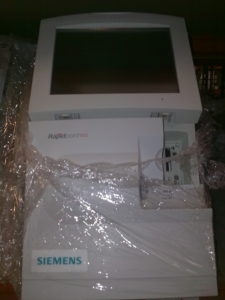 Fast test results mean quicker decisions for earlier treatment. With our RAPIDPoint® 400/405 Systems you receive the same benefits of speed, operator safety, and proven reliability that make our high-volume RAPIDLab® Systems so popular. One of the first true point-of-care systems in the market to bring comprehensive lab-quality testing to the patient's bedside, RAPIDPoint 400/405 Systems provide acccurate results you can depend on.
 Test menu includes blood gas, electrolytes, glucose, hematocrit, neonatal total bilirubin and full CO-oximetry from a single sample.
    Intuitive to operate for non-laboratory personnel
    Biosafe automatic sampling system with clot detection and clearance
    Maintenance-free cartridge-based system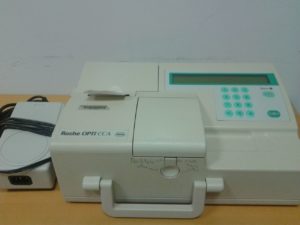 OPTI Medical Systems OPTI CCA Blood Gas and Electrolyte Analyzer
    Shares all the features of the OPTI Medical Systems OPTI® CCA TS Blood Gas and
    Electrolyte Analyzer but does not have a touch screen
    Innovative Optical Technology
    Provides fast accurate results for blood gases, acid-base balance, electrolytes, ionized calcium, and glucose
    Virtually Maintenance Free
    Run samples of whole blood, plasma and serum on single-use disposable cassettes