Różne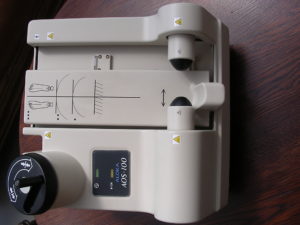 Femoral neck fracture is one of the most severe complications that frequently occur in osteoporosis patients. Key factors for femoral neck fracture are reported to include reduced bone strength (bone vulnerability), falls, past fracture, and bone structure.  
 
To prevent patients from becoming bed-ridden due to fracture and to help maintain or improve quality of life, fracture risk assessment based on bone strength (elasticity) measurement has become important, raising great expectations for the use of ultrasound in fracture risk assessment.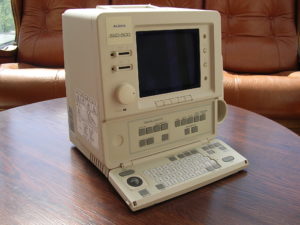 The Aloka SSD-500 portable ultrasound machine is a compact and lightweight multi-purpose diagnostic ultrasound system providing excellent image quality with comprehensive functions in a portable body.
Uncomplicated controls, logically designed for straight forward operation, simplifies operator training, helps to reduce examination times, and increases overall operator efficiency. The mobility of the system enables it to be used on the desktop in an examination room, at the bedside of in-patients who have difficulty moving, in the operating theater, etc.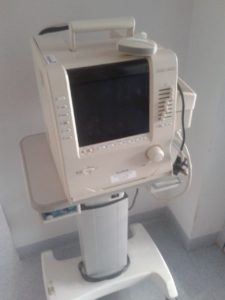 The Aloka SSD-900 portable ultrasound system delivers excellent images of superior quality in a portable package by featuring the technological design concepts of Aloka's latest in ultrasound advancements. The Aloka SSD-900 ultrasound unit includes 15-channel user-programmable preset functions, annotation labeling, and a full range of measurement functions.
Refurbished Aloka SSD-900 Features
    High Density Transducers
    Standard Linear Scanning and Convex Sector
    Automatic B-gain Control
    Image Processing Select
    Full range of measurement and calculation functions
    Retractable keyboard
    Image Select Profile
    15 channel user programmable presets
    256 grayscale levels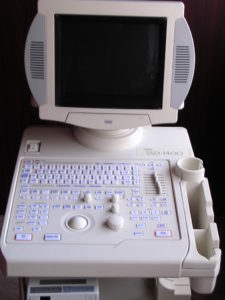 SSD-1400
This black and white, in-clinic system employs convex and linear probe technology. Its quality and intuitive design make it the "gold standard" for reliability and ease of use in veterinary medicine.
Multi-frequency system Allows the clinician to scan a wide range of different size patients with the same probe.  
Preset function Use the 15 user-programmable presets to register your preferences and recall them with a simple of touch of a button.  
Multi-Stage Dynamic Focusing The transmitted ultrasound beams are focused throughout the entire field of view. In addition, up to 4 user selectable focal zones can be selected to optimize resolution in the area of interest.  
Image processing Select (IPS): enables you to pre-program up to 8 combinations of imaging factors for each of 15 pre-sets  
Image select function: Transmit, frequency, receive frequency, and transducer aperture size are changed to optimize the image. R=resolution; S=standard; P=penetration  
Automatic B-gain control (ABC): provides hands free automatic system gain control providing a constant image brightness.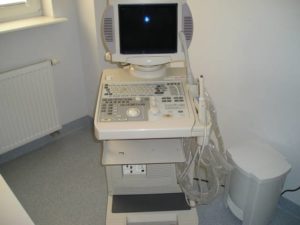 Aloka will introduce SSD-1700, a new color-flow ultrasound scanner with an option available to support digital management of ultrasound images. The new scanner employs a similar imaging architecture to Aloka's existing SSD-2000 scanner, but users can add a data management subsystem (DMS) for functions such as image processing and archiving, according to William Jennings, vice president of sales and marketing for the Wallingford, CT, company. SSD-1700 will be shown as a work-in-progress.
The DMS module is like an onboard workstation that lets sonographers archive up to 1000 gray-scale ultrasound images or 400 color images on a single magneto-optical disk. Clinicians can also store cine loop images, conduct online and off-line measurements, and load data into a PC, Jennings said. DMS images are digitized from the scanner's scan converter into the DICOM 3.0 format, making it easier to integrate SSD-1700 with a DICOM network.
Aloka will target a price point for SSD-1700 of under $200,000 when FDA clearance is received. The scanner has been shipping to international customers for the past several months.
In addition to SSD-1700, Aloka will display images produced with a new work-in-progress 3-D technique called Volume Mode. Volume Mode creates 3-D surface renderings without the use of a separate workstation, and Aloka will emphasize ob/gyn images reconstructed with the technology.

 MPW-250e is a universal table top laboratory centrifuge. Its structure guarantees easy service, safe work and wide range of applications in medical, biochemical and other laboratories, where constituents of investigated material are to be separated into components of different density under the effect of centrifugal force.
ADVANTAGES:
– maintenance-free, brush-less motor;
– preselection for rotational speed or RCF;
– LCD display;
-SHORT programme;
– it is not possible to open the lid during spinning;
– it is not possible to start, when the lid is open;
– unbalance meter.
TECHNICAL DATA:
Electric supply – 230 V 50/60 Hz / 115 V 60 Hz
Power consumption – 200 W
Maximum capacity – 79,2 ml
Speed range – 14000 min -1
Maximum RCF – 18188 xg
Time range – 0-99 min ÷ ∞
Dimensions:
– depth 435 mm;
– width 355 mm;
– height 270 mm;
Weight without accessories – 13 kg

NELLCOR N180 Pulse Oximeter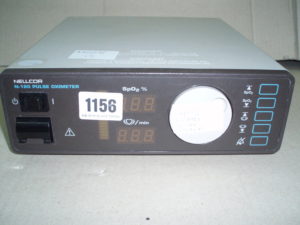 The Nellcor N-180 provides continuous, non-invasive measurement of oxygen saturation and pulse rate. These measurements are updated with each heartbeat. The saturation range goes from 0 to 100% and pulse rates from 20 to 250bpm. The unit runs AC power, as well as an internal battery. Compact and lightweight, these units are easily portable.
The audible alarms are configurable or the user can preset limits for adults or neonates. Two 3-digit green and red displays for oxygen saturation and pulse rate. 16-segment display for pulse amplitude indicator. Annunciators for LOW BATT, PULSE SEARCH, HIGH SAT, LOW SAT, HIGH RATE, and LOW RATE alarms, and AUDIO ALARM OFF.
FEATURES
    Measures functional oxygen saturation of arterial hemoglobin and pulse rate
    Compact and portable with trend and event memory to record high and low resolution data
    RS-232 and analog communication ports for interfacing with central monitoring systems, recorders and computers
    Sensor-off indicator
    Default settings available for Adult/Infant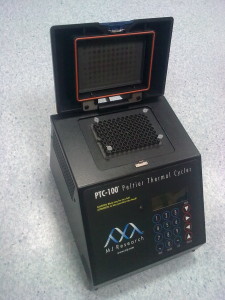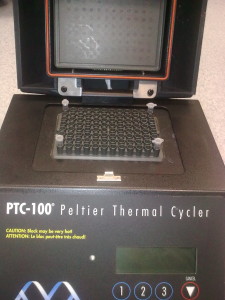 MJ Research PTC-100 thermal cycler uses Peltier technology to electronically deliver accurate
heating and cooling over the full temperature range of 0°-100°C
Features:
Peltier Effect Cooling
Heated Lid
Thermal range: 0-100C
Accuracy: +/-0.5C of programmed target at 60C
Thermal uniformity: +/-0.4C well-to-well within 30 sec of arrival at 60C
Ramping rate: up to 1.2C/sec
Sample capacity: 96-well block: 96×0.2ml ml tubes
Line voltage: 100-240 VAC 50/60
Displays: One 4 x 20 LCD alphanumeric display
Memory: 99 typical programs in up to 12 individual folders
Dimensions: 23 x 28 x 26 cm